On The Ground, The World Around
Need a pair of trained investigative eyes in China, or Russia? Been there. Done that. With over 100 countries served, Marksmen has conducted thousands of on-site investigations around the world.
No Scope Is Too Big Or Too Small
From intellectual property to business intelligence, here are a few of the many areas we investigate in-use, on-site and online—anywhere in the world. Read more









Seamlessly Coordinated, Successfully Executed On-site Investigations
Tell us what you're looking for and we'll activate our on-site assets on your behalf.
Simultaneous On-site Investigations
When time is of the essence and you need to be "everywhere" ASAP, Marksmen is your "one-stop shop" for global investigations. Simply give us your targets and directives then we will activate our local assets for quick turnaround.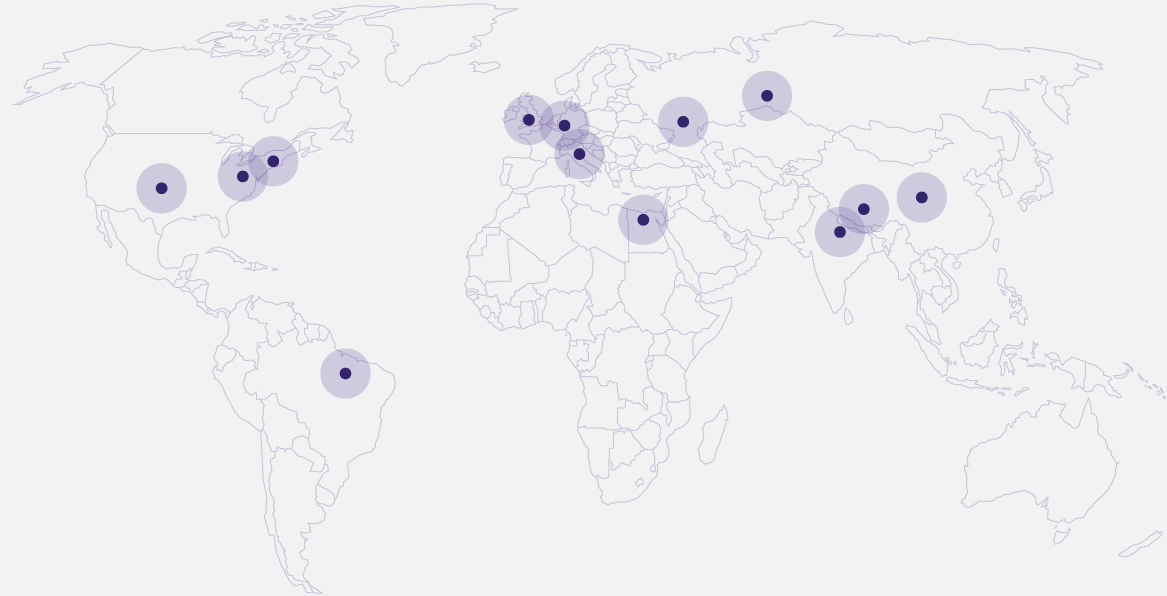 Anatomy Of An On-site Investigation
We take the following steps to ensure every Marksmen on-site investigation is seamlessly coordinated and successfully executed.
Let's Have A Conversation.
You can quickly order by phone, email, or online. To get things started, we will need to know some basic information: the target, the location, and what you need to know. We'll quote you the estimated time/price and start when we have your approval.
Activating On-site Assets.
Whether you need a single on-site investigation or an army of investigators across the globe—we have you covered. Once we have our marching orders, we debrief the investigative team on the information you've provided and mobilize the investigation.
Undercover Outreach.
Next, our licensed investigators become your eyes and ears at your target investigation location(s) around the world. We pose as everyday consumers to ethically gather the key evidence you need for your case and can optionally keep you updated in real time. Whether you need us on location today or at a future date, Marksmen has you covered.
The Report.
When we've gathered all essential on-site evidence, we wrap it up in a detailed, readable report that provides an executive summary of the investigation, documented findings, photographs, interview summaries or transcripts, the details of how we acquired the information and a conclusion based on the revealed facts. A Marksmen investigative manager reviews your report as a final step. Standard turnaround is 10 business days, with expedited options available.
When It Really Matters, Professionals Choose Marksmen
There's comfort in knowing Marksmen has your back, no matter what part of the world your back happens to be in. Read what our clients think.
"Marksmen is a model for service excellence. Their knowledgeable professionals are responsive, anticipate your needs, and deliver results on time and on budget."
Brandon E. — Partner
National Law Firm
"Marksmen hits the mark! Good service, good results, reasonable prices."
Everett F. — Trademark Group Practice Leader
IP Law Firm
"This report is a perfect example of why I always rely on Marksmen. Thorough, on point, clear, succinct. Thanks so much for your professionalism!"
Bob C. — Partner
Corporate Law Firm
"Marksmen reports are always timely and precisely summarized in a way that we can quickly review and react. Our company has always been pleased with the work."
Sally S — Sr. Paralegal
Fortune 500 Food Company
"Marksmen was extremely responsive upon placing my request. I felt the investigative report was well-structured and thorough."
Ann W. — Trademark Group Chair
International Business Law Firm
"Marksmen knows trademark investigations from all angles. They are a leader in the industry and I regularly rely upon their expertise."
K.S. — Trademark Attorney
Am Law 100 Firm
"Marksmen is highly recommended for in-use investigations and follow-up use work. Our company has always been pleased with the work."
Sally S — Sr. Paralegal
Fortune 500 Food Company
Take a Moment Today To Put Marksmen Onsite Tomorrow
Simply fill in the form and we'll contact you to get your on-site investigation started.