Obtain Counterfeit Or Targeted Products Quickly And Discreetly
Marksmen has trained investigators who can pose as everyday customers and make test purchases anywhere in the world, in person or online without arousing suspicion.
We'll Get You The Goods, Online Or Offline—Anywhere In The World
When hours count, depend on Marksmen to get the evidence. Anonymous same-day transactions possible, anywhere, any time.
Read more






Put Markmen's Discrete Purchasing Service To The Test
Simply tell us which product(s) and purchase environments and we'll take it from there.
We Fully Document The Buying Experience
In addition to gathering physical or experiential evidence, we provide a fully-documented report with all the salient details.  Marksmen Discreet Purchases include:
A fully-documented buying experience
Photographs, screenshots and commentary
Purchase records and associated evidence
Products shipped anywhere in the world
Affidavits and declarations available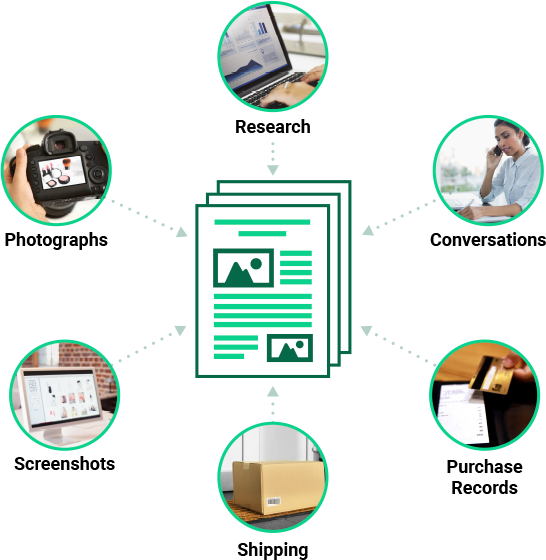 Anatomy Of A Discreet Purchase
Markmen's proven purchasing tactics provide the information you need—without tipping off competitors and infringers. Here's how it works:
Let's Have A Conversation.
First, let's chat to make sure we completely understand what product(s) you'd like us to discreetly purchase, which channels (online, in-store, etc) and any other relevant product or purchase-related information you need to know.
Discrete Purchase Transaction.
Marksmen contacts the target under cover (in person, online or both) to conduct the transaction. If applicable to your case, we discretely research records and databases, social media, websites, news, archives, investigative tools and collaboration for additional clues and evidence.
Shipping.
Marksmen promptly ships the product(s) and purchase records and any other evidence to you or your designated parties—anywhere in the world. Expedited reports and/or shipping are available upon request.
The Report.
We complete the case with a detailed, readable report that documents the purchase experience. Reports typically include screenshots, product photographs, the chain of custody from the origin to final destination, and any other key information relevant to the transaction. A Marksmen investigative manager reviews the final report before we release it to you. Signed declarations are optionally available.
When You Need It Done Right The First Time, Trust Marksmen
Why choose Marksmen? We are experts. Our Discreet Purchases have been used as evidence in landmark case law (the winning side). See what our clients have to say about our work.
"Excellent report—timely, professional, and gave us the information we needed. Thanks!!"
Lori B. — Director, Global IP
Multinational Brewing Company
"Marksmen is the go-to firm in the industry for investigations and acquisitions—if you want it done right the first time."
Peter R. — Partner
IP Law Firm
"Marksmen knows trademark investigations from all angles. They are a leader in the industry and I regularly rely upon their expertise."
K.S. — Trademark Attorney
Am Law 100 Firm
"Over the course of many years, Marksmen has consistently provided us with a level of responsiveness and creativity that has served our clients well."
David P. — Partner, IP & Technology
Am Law 100 firm
"We hired Marksmen to track down an art counterfeiter that was reproducing and selling fine art from our collection. I can definitely recommend using Marksmen for this kind of work."
S.L. — President & CEO
National Fine Art Company
"I have used Marksmen for years—they are my go-to resource. Their work is comprehensive, and their reports routinely help in counseling our clients how best to proceed."
Bill B. — Partner
Am Law 100 Firm
"Marksmen is a model for service excellence. Their knowledgeable professionals are responsive, anticipate your needs, and deliver results on time and on budget."
Brandon E. — Partner
National Law Firm
Test Markmen's Discreet Purchasing Today
Tell us what product(s) and related information you're seeking. We'll purchase and provide it quickly and confidentially.