We Discreetly Acquire Any IP You Need
Over 1.8 billion people actively use intellectual property, domain names, and social media handles secured by Marksmen.
When You Absolutely Need It, Trust Marksmen To Get It
With two decades of experience, long-standing relationships with industry sources and an eye for protecting brand owners, Marksmen is a trusted leader in the IP acquisition field. Read more







Discreet, Confidential, Relentless IP Acquisition
We specialize in seemingly impossible IP acquisitions. Don't believe it? Give us a try!
We Keep Your Identity Secret
Marksmen discreetly and confidentially researches, negotiates and purchases virtually any kind of intellectually property on your behalf—while keeping your identity anonymous. Whether you're a fledgling start up or global brand, professionals choose Marksmen for their IP acquisitions.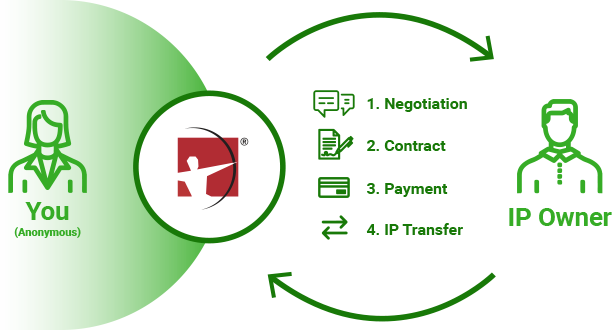 Anatomy Of An Acquisition
Marksmen has acquired tens of thousands of domains, social medial handles, trademarks, and other IP—including "whoppers" you use every day. Here are the steps we take to ensure anonymous, affordable transactions.
Let's Have A Conversation.
One of our skilled analysts will review your target domain or IP and personally walk you through our process. We discuss your needs, the target IP ownership history, provide guidance on a budget and discuss a strategy that fits your needs and timeframe. Finally, rest assured that we never reveal your identity during the process.
The Starting Price.
Once we've done our due diligence, we'll contact the owner, representing you as an undisclosed third party. We'll assess their willingness to sell and discuss their starting price.
The Negotiation.
Over the following days, our acquisition professionals will expertly negotiate with the owner to arrive at the point of mutual agreement. We keep you informed and involved every step of the way.
Closing the Deal.
Next, we'll memorialize the purchase with a written agreement that is signed by the seller. You provide us the funds and we interact directly with the seller to complete the payment and to transfer the domain or IP. Your anonymity is completely preserved during the entire process.
Affordable Acquisitions? Absolutely.
Why do professionals choose Marksmen? Not only are we experts at IP acquisitions but our rates are very reasonable.
Buyers And Sellers Like Working With Marksmen
We are experts at bringing two sides together for a positive outcome. Not only do our clients rave about their experience with us, sellers appreciate our professionalism and smooth transactions.
"Marksmen was a delight to work with. They made the discrete domain acquisition for our client an easy and efficient process. I would certainly use them again."
Laura T. — IP Attorney
Australian Boutique Law Firm
"Marksmen has been our firm's go-to investigation and acquisition company for over 10 years. I have referred colleagues and clients alike to Marksmen and the feedback has always been positive."
Mike L. — Partner
Am Law 100 Firm
"I am so glad I was referred to Marksmen. They're my secret weapon and I go back to them every time without hesitation. Reliable, quick, practical, efficient and a pleasure to work with!"
Daniel S. — In-house counsel
Major Techology Firm
"We came to Marksmen with a domain acquisition and a very strict deadline. They delivered on-time and kept our team informed of the acquisition status throughout the entire process. "
Marissa. — Head of Marketing
Major Technology Firm
"The Marksmen acquisition team is experienced and offers feedback and appropriate guidance throughout the process. I highly recommend their services."
Nick C. — Attorney
IP Law Firm
"We have been very happy with the Marksmen experience. They worked closely with us during the negotiation process and their final results exceeded our expectations."
A.C. — Strategic Sourcing
North American Energy Company
"Just like to say - HUGE THANKS. Great job, quick responses and status updates, unbelievably diligent, a real art-of-the-deal negotiation."
Todd B. — Partner
Global IP Law Firm
Gotta have it? Let us help you get it!
Tell us what intellectual property you need and we'll take care of the rest.